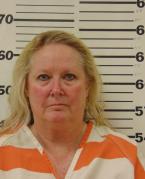 NANCY JEAN THOMPSON # 0000082880
1139 PREBLE DRIVE
EATON, OH 45320
NANCY JEAN THOMPSON
REGISTER NUMBER: 0000082880
DOB: 12/30/1953
AGE: 62
RACE: WHITE
SEX: FEMALE
LOCATED AT: Preble Co. Jail
RELEASE DATE: COURT

Inmate Search ~ Preble County Jail

EATON, Ohio -
Plastic tarps and duct tape couldn't hide 200 pounds of marijuana from state troopers and a drug sniffing dog.
The Ohio State Highway Patrol says a 62-year-old California woman is facing felony drug charges after troopers seized the marijuana, worth approximately $1 million following a traffic stop in Preble County.
The patrol pulled over a pickup truck being driven by Nancy Jean Thompson, 62, of Groveland, California for allegedly impeding traffic along Interstate 70 in Preble County last week.
Troopers say they suspected a possible criminal violation and brought in a drug-sniffing canine who found the pot in wrapped up in plastic and tape in the bed of the truck.
Thompson was charged with possession of drugs, which could bring up to 8 years in prison and up to a $15,000 fine if she is convicted.


---


DANIEL AUSTIN JAMES YATES # A736993
NORTH CENTRAL CORRECTIONAL INSTITUTION
PO BOX 1812 
MARION, OH 43302
Total Bond Amount:$300,000.00


Daniel Yates, a 31-year-old man from California, was pulled over by Ohio State Highway Patrol for following another vehicle too closely on the interstate.
When cops went to his car, they say Yates was acting suspiciously, and a drug-sniffing dog confirmed that the Christmas packages in the back of his SUV were not toys for tots.
The packages contained lots of marijuana, according to authorities. The total estimated by officers was $330,000 worth of marijuana in the form of pills, hash wax oil, and traditional weed. 
Troopers say they "observed criminal indicators" and a Patrol drug-sniffing canine alerted to the vehicle. During a search of the vehicle, troopers say they found 10 gift-wrapped boxes containing about 71 pounds of marijuana, 360 THC pills and a pound of hash oil wax.
Yates was charged with possession and trafficking of drugs and could face up to 16 years in prison and a 30,000 dollar fine.

Inmate Search ~ Jail

Inmate Search ~ Vinelinks

Facebook Page ~ Daniel Yates


---