Scott has been released. Welcome home. Scott was sentenced to 24 1/2 years in federal prison for marijuana.




SCOTT HOWARD WALT # 42736-198
FCI SAFFORD
FEDERAL CORRECTIONAL INSTITUTION
P.O. BOX 9000
SAFFORD, AZ  85548
SCOTT HOWARD WALT
REGISTER NUMBER: 42736-198
DOB: 4/18/1959
RACE: WHITE
SEX: MALE
RELEASED DATE: 01/20/2016 

Words from Scott Walt ~ Click here

Make a difference in ending cannabis prohibition and donate to POW420 today -
pow420.com/donate_to_pow420

Scott Walt
US vs Scott Walt

Scott Walt ~ Facebook Page


24 1/2 years - Marijuana Conspiracy
On October 3, 1993 Jurgen Hans Thode was arrested in Encinitas, California for possession of 57 pounds of marijuana. Thode had been renting a room for about a year from my friend of 15 years, Chris Brunot of Encinitas.
Thode called my home in Vista (about 20 minutes from Encinitas) the morning after his arrest and asked if he could borrow $1,200 so he could fly to Minnesota. I told him that I had to take my son, Michael to kindergarten at 8 am and then go to my friend's print shop where I planned to work on some art I was doing for some t-shirts. I told him I'd be there around noon.
I got there about 11 am and Thode was standing in the garage that faced the street. He asked for the money and I gave it to him. Little did I know that we were being video taped and that Thode was wired. He asked me how much he should charge for the marijuana and I told him, "I don't know, I guess about $850."
 On my way to Chris Brunot's shop two sheriff units pulled me over. Suddenly, out of nowhere, there were about five undercover cars surrounding me. The sheriffs placed me under arrest and placed me in the patrol car. They then drove me south about a mile where in an alley they handed me over to the DEA I was told by agent Bryant that Thode had been "busted" the night before and he had told them that I was the boss. The agent then told me that O.J. Simpson had a better chance of getting off than I did, so I had better play ball. I told him that I wasn't a boss. Bryant said that I was going to go to prison for 30 years if I didn't talk. I said nothing.
I was then handed over to Agent Dias who said that they wanted to search our home and that could be done one of two ways: either I signed the release form and they would be respectful, or they would get a warrant, bust my doors down, put guns to my family's heads and tear our home apart. I signed the search warrant.
In the search they found nothing related to the sale of drugs - no scales, ledgers, drugs - nothing. They took financial records and $7,500 in cash. My wife Dawn was a successful Mary Kay team leader and ran her business from our home. They searched for about 3 hours. Agent Clemson told my wife I would be out on bail in a couple of days. I have never been home. I was booked into the Metropolitan Correctional Center in San Diego for conspiracy to possess and distribute a controlled substance and there I awaited trial.
On March 5th we started trial. Thode had never spent a day in jail. He testified at trial that he was a courier for me and had taken marijuana back east for about 9 months. He said that at one time he had seen 500 pounds of marijuana in my garage. I also received a possession conviction for that. He also stated that one time I carried 100 pounds in my truck - so the government took my truck.
Thode, who was caught "red-handed" with 57 pounds, never forfeited a single thing. The government stated that they had caught Thode in Minnesota with $104,080. Thode told them the money was mine and it was forfeited. I filed a double jeopardy motion, and suddenly the government said none of that money was mine. Thode was the only witness against me other than the agents that were watching Chris Burnot's house.
Agent Bryant took the stand and said that Chris and I were not friends and that I was there only to see Thode. The agents threatened Chris with charges if he took the stand as my witness and that his children would be taken away. Chris did not testify for me.
Before sentencing my wife, Dawn, had spoken and taped a conversation with the DEA in Washington and gave the tape to my court-appointed attorney to give to the judge. The sentencing hearing was postponed and the attorney gave my wife the tape back outside the courtroom. Two agents saw the exchange. They caught my wife alone and demanded the tape as the prosecutor looked on laughing. They took her purse and then the tape - it has never reappeared.
I was sentenced the following week to 292 months (24 years, 4 months) in federal prison. The judge stated that this was far too much time and that murderers get less time than I received under the mandatory minimum sentencing laws. The prosecution argued that it wasn't enough time.
Thode received one year in a prison camp.

My family lost their home, our assets and my wife struggles to raise our children alone. Michael is now 8 and Taylor, my daughter is 6. They were 5 and 3 at the time of my arrest. It is amazing that a person can be sentenced to such time with so little, if any evidence, beyond hearsay. This insanity must end. I pray for us all.
 Oh - I was also convicted of the 57 pounds that Thode had in his possession. 
Scott is also featured in the book SHATTERED LIVES: PORTRAITS FROM AMERICA'S DRUG WAR, from Human Rights 95.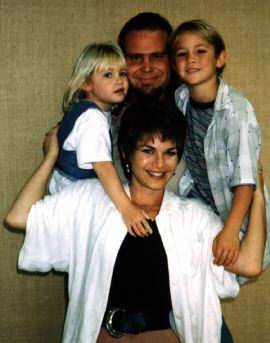 To send money, books, mail, anything please go to -